Merry Christmas everywhere,    or not? Clearly in a Christian country Christmas is celebrated, but Japan is not Christian. Nevertheless, Christmas is known here, albeit in a different way. For one thing, it's not celebrated, these are normal days here. But what exists is a commercial variant. This day is also heavily promoted by retailers with discounts. Otherwise, you see only a little Christmas decoration which is also strongly based on the American variant and what I have seen so far in Shizuoka, seemed rarely beautiful, often rather misplaced or cheesy (from my point of view). The Japanese love to dress up, so you can buy a lot of different costumes, from reindeer to Santa Claus. Especially many different Miss Santa Claus costumes were to be had, Shame be to him who thinks evil of it. The Japanese are more in love with the events, but I was told at the expense of their own festivals and culture. Another (miss) need is that the Japanese combine Christmas Eve with chicken wings and potato wedges, thanks to Kentucky Fried Chicken … ..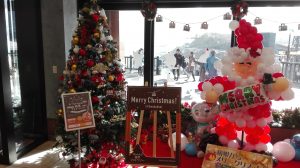 Otherwise, for most people, Japan is not the feast of love or family as we know it, but the feast of the lovers, therefore, it's more a day for couples and dates.
Otherwise, there are many commercial cakes here with Christmas decorations. Because strawberry are here at this time in season, also very often with strawberries. I also bought a small and cheap one. A normal cake with a lot of cream, my balance doesn't thank me ……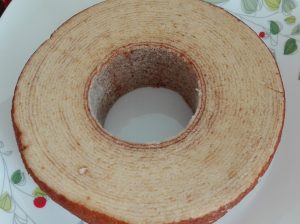 I also bought a pyramid cake ("Baumkuchen") here, except that the name was also in German and that he had rings, he had little in common with the pyramid cakes I know so far. It is different, a Baumkuchen in Japanese.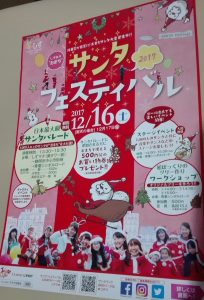 On the 16th there was apparently a kind of Christmas parade / event, but since I was working elsewhere, I could not look and therefore, I'm not so sure (the translation was not worth it from the outset, because I knew that I will not have time).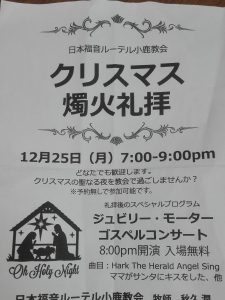 However, there are also small Christian communities in today's Japan. So I was a little surprised when I had this invitation to the fair on Christmas morning. Incidentally, a Protestant community.