This time there are a few repetitions with Akihabara and the Imperial Garden. However, I have a few new pictures and the Imperial Garden was now temporarily open to an area that is usually not open to the public.
The Asakusa Shrine is also known as Sanja-sama and honors the three men responsible for the construction of the Buddhist temple Sensō-ji, which is located right next door. This is Tokyo's oldest temple. The Asakusa shrine in turn is one of the most famous shrines in Tokyo and both belong to a group of sacred buildings in the Asakusa district near Ueno in Tokyo.
Here are some more impressions of Akihabara.
If you are travelling in Japan, you should also pay very close attention to what is in which building. We had lunch in a small restaurant in Akihabara. Inside there were only residents and employees eating. We almost overlooked it, because outside only a small sign with food wrapped in foil as an example advertised it. Then we had to go down a narrow staircase and ate in a small restaurant at the ground floor. In Germany the trade supervisory board would have closed this restaurant long ago, as unclean as it all looked, because we also could see the kitchen. We had ramen there (who remembers, noodles in a soup; with very many different combinations and additional variations; –> to know each variation/taste is very difficult) and Mapo Doufu (also Mapo-Tofu). Mapo Doufu originally comes from the Sichuan kitchen, China and is a spicy tofu dish with minced meat that has become very popular in Japanese cuisine.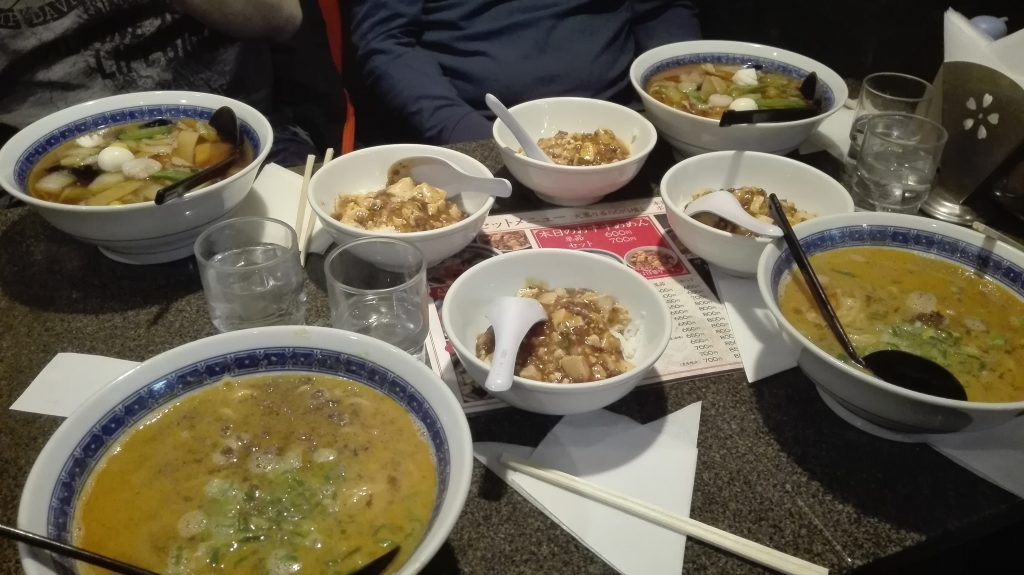 Supplementary pictures of the imperial garden.
In addition, this time a model was exhibited which shows the building complex which will be erected extra temporarily for the accession of the new emperor to the throne on 1 May this year.
And here the Sanja-sama and the temple Sensō-ji.